Art Law
Evgeny Nagornyy provides legal services to artists, private and institutional collectors on a wide range of arts related business matters on copyright, authenticity, defamation, export customs regulations and exhibition artworks with due diligence. He deals with situations when there is conflict of interest between an art organization and an individual artist. The services include:
protection of intellectual property rights;
copyrights and neighbouring rights protection;
advising on dispute resolution and representation in a court on the territory of the Russian Federation;
advising on laws and regulations concerning to art transactions, copyright, exhibition and conducting art business in Russia;
reviewing existing arrangements and documentation in relation to artworks;
drafting documentation on purchase and sale artworks contracts, exhibition loan agreements and financial agreements;
representing a client in negotiations on the terms and conditions of art related projects and transactions.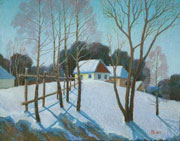 He represents clients who are entering into a legal relationship with galleries and artists, usually contractual whether verbal or written. Art transactions is largely unregulated market, attribution, authenticity, ownership and condition of paintings, sculptures, drawings, photographs, prints and ceramics are a perennial issues in these transactions. To make sure of the clients interests, Evgeny Nagornyy has been diligent about to check the provenance of the artworks to avoid case raises the issue of the plight of those who have bought looted artworks in good faith and future potential disputes which can cause distress, inconvenience and expense. He makes a legal assessment of transactions including copyright and rights of ownership. (See "Some Rules of the National Legislature with Export Artworks from Russia").
Case Notes and Materials